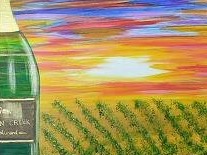 As we welcome in this New Year, I reflect with gratitude on the beauty and successes of the last one. With 2017 I saw so many new beginnings and changes.
I created over 50 new artworks last year. That's a lot. With many new commissions I was asked for paintings in several different styles. It has been nice to reach out of my comfort zone and grow. I even painted several beautiful nudes this year. One was an absolute stunner.
With the help of my wonderful and supportive husband, I launched my website. Since then I have been booking birthday parties, girl's nights, winery events and all manner of paint classes. It has been easier for clients to find my artworks and contact me for commissions. Not far behind came the time to choose print suppliers for my artwork and I have been very happy with Fine Art America and Pixels.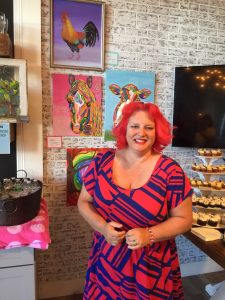 I participated in my first group art show, as part of a larger city wide annual art event. There are so many talented and creative folks out there. I love seeing and being inspired by others artwork.
I took part in a 7 day Plein Air Competition and was part of my first gallery show. Accomplishing ones goals really makes you feel satisfied. This goal was hard for me. I like to hide in my little studio room and paint, taking it out into the wild outdoors is very different. You have to pack up and take all your supplies with you, and with only 7 days to complete your works you have to paint fast. Not to mention how quickly your paint dries in the California sunshine. I cannot complain, I spent most of my time painting at Wilson Creek Winery, known for its fabulous Almond Champagne. Life is good.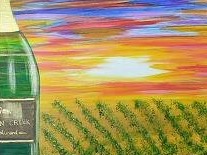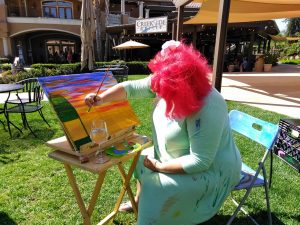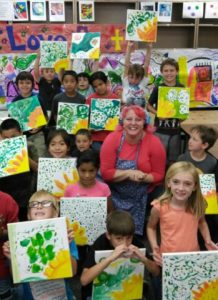 After 7 years volunteering at our local public school as an art teacher, I passed the baton forward. Now the school has two paid teachers bringing art and creativity to those smiling faces. I truly know the value of a great instructor and the work involved to educate, in a meaningful way, the minds of our youth. Putting together structured lesson plans all while trying to create and have fun is no easy task. Now when I teach students I am paid to do so. As much as I value those children's smiles, it is nice to be paid what I am worth, along with the smiles.
Professionally 2017 was what I would call a success. I hope 2018 brings as many new challenges and that my creativity continues to thrive. I wish you all a happy and healthy New Year. Paint on….